Download the Abralife app

The Abralife mobile app allows you to control your smart devices and receive notifications if something happens in your home. Abralife is free of charge and available for Android and IOS based mobile devices. The app is downloaded from Google Play (Android phones) or the App Store (IOS phones).
Downloading the app and creating a user account is free of charge.

Basic setup overview
When you open Abralife for the first time, you will be guided through a step-by-step onboarding process. Follow the process and, if needed, use this article for additional help.
More articles regarding Abralife setup and administration is found here.
If you have a Linkbox+ installed or you are not located in Norway, we recommend basic setup without Elhub connection (you can set up the Elhub connection later). If you don't have a Linkbox+, follow the basic setup with Elhub connection (you can connect a Linkbox+later).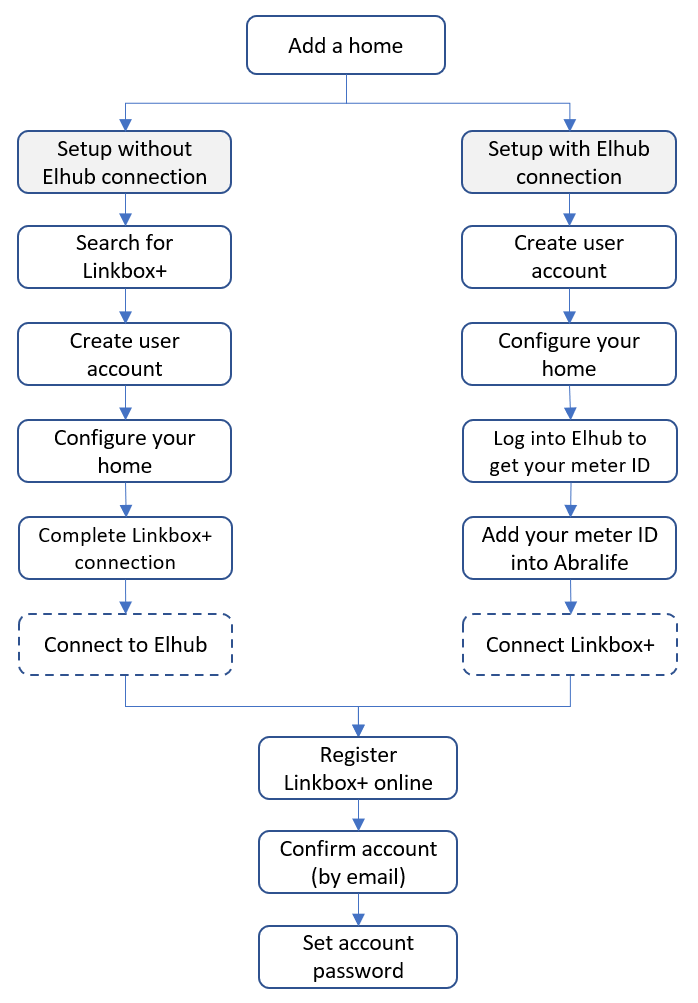 Add a home
The first time you open the app, you'll be asked to add a home.
Click "Get started", add a name for your home and click "Save & continue"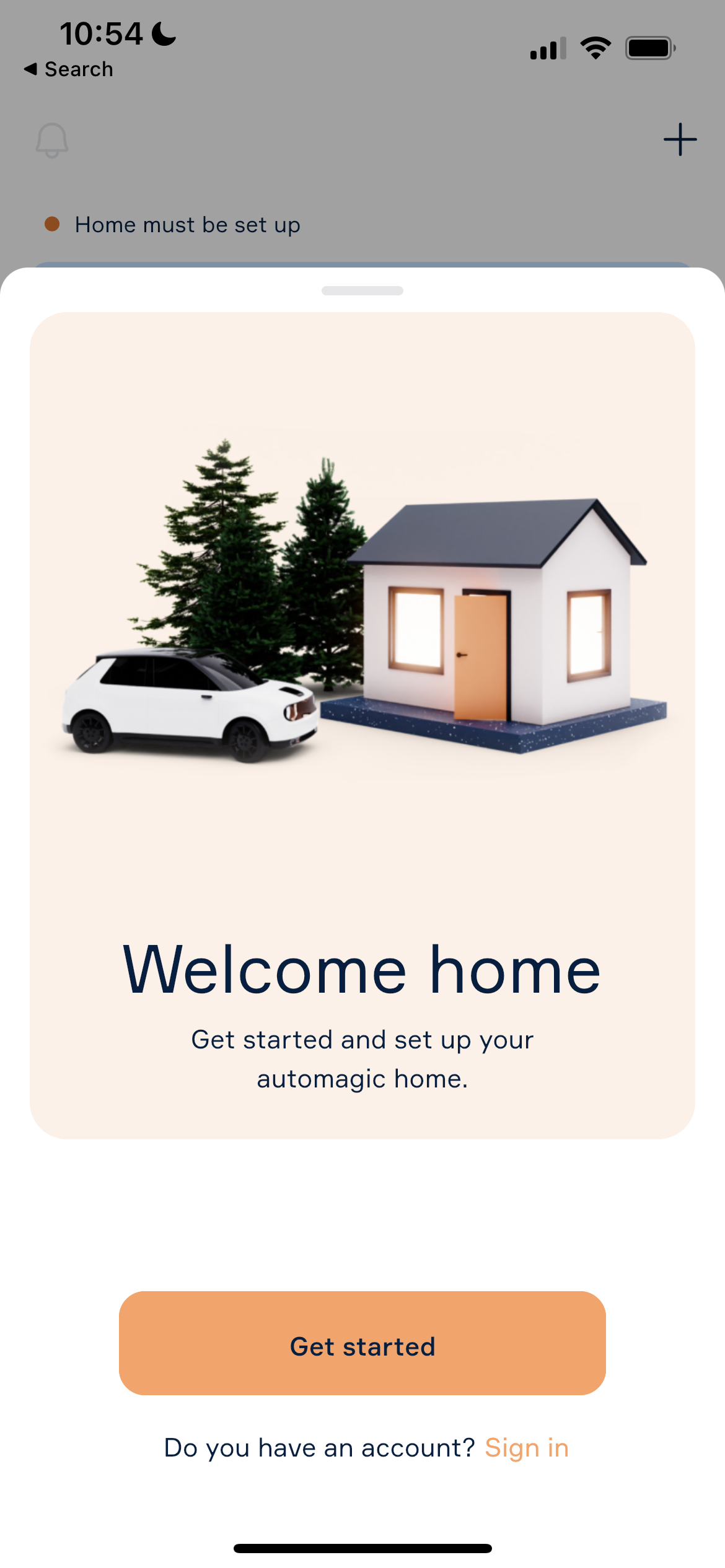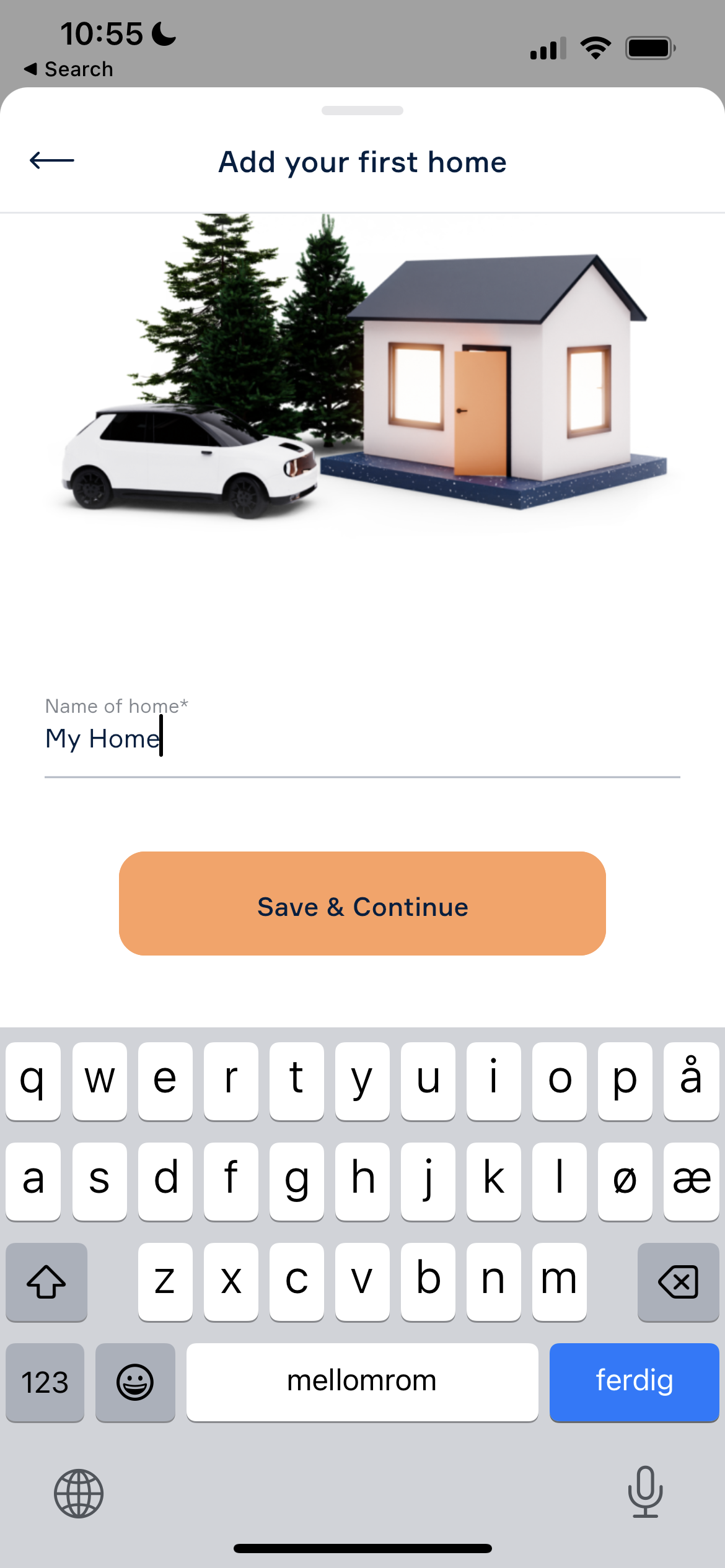 In the next screen, click "Continue". You'll now have 2 choices - setup with Elhub-connection or setup without elhub-connection. Swipe left/right to choose: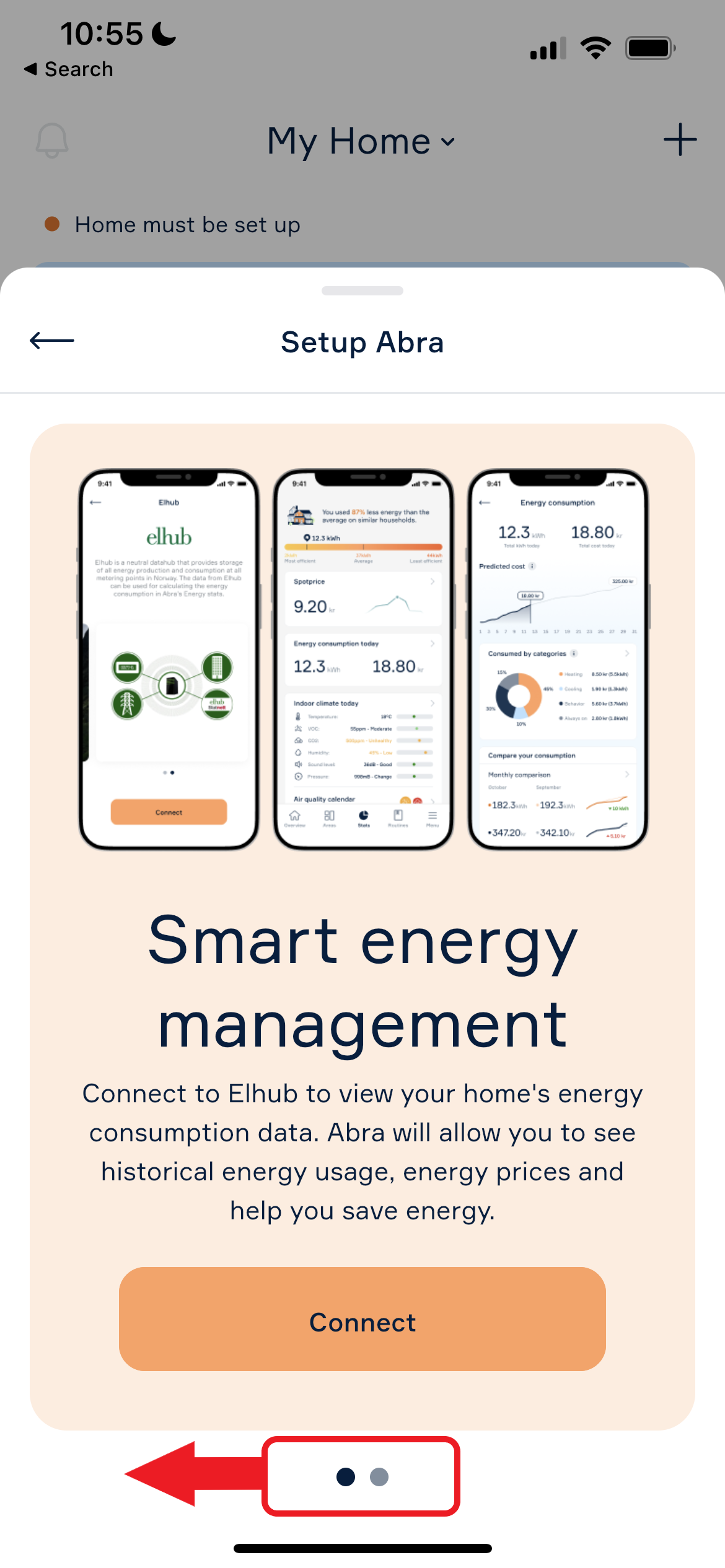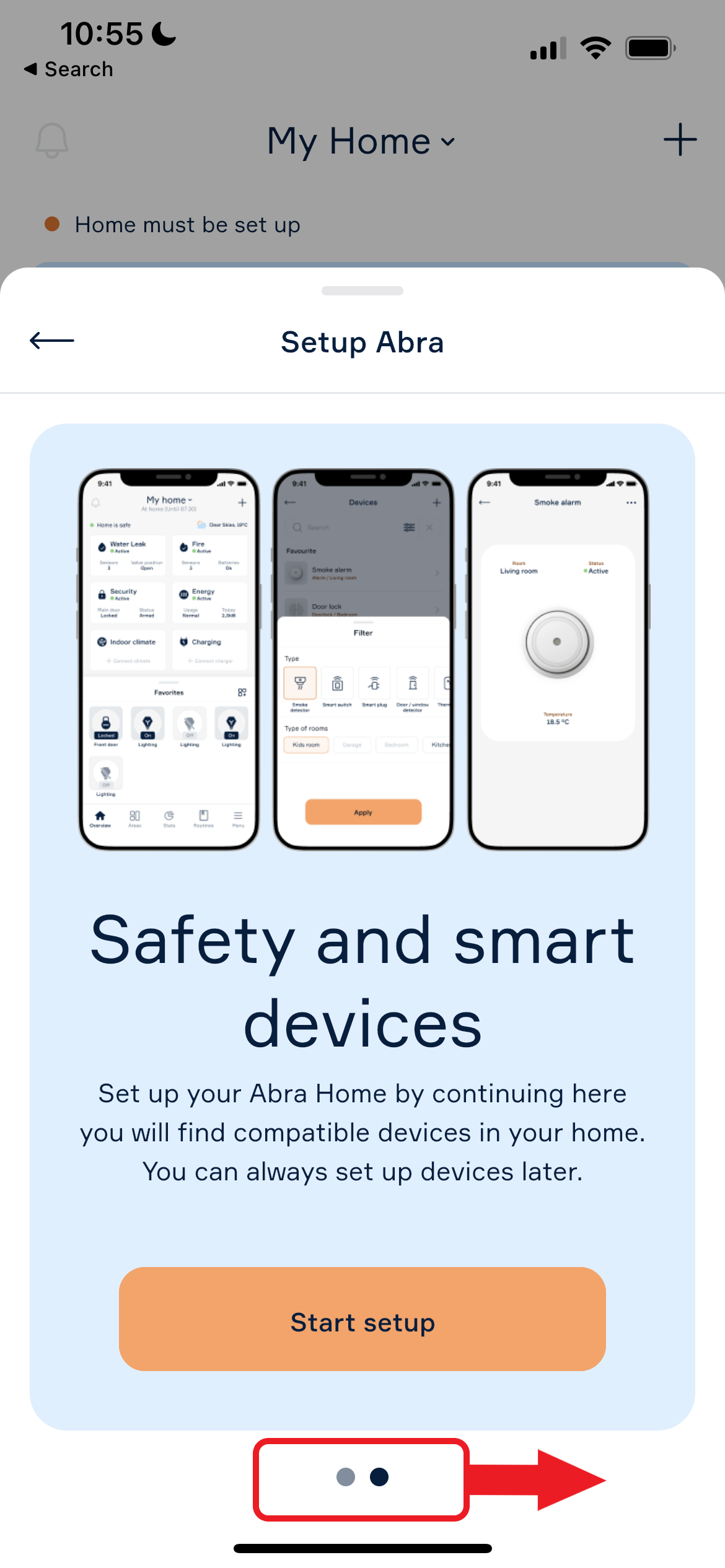 Create a user account
During the setup, you'll be asked to create a user account. Add your name and email address. By clicking "Sign Up", you accept the Terms of use.
PS! If you already have an Abralife account, click on "Sign in" instead of adding your details.
PS! The email address must be valid and in use. When signing up, you'll receive emails (from account@abralife.com) for verifying the account and setting password.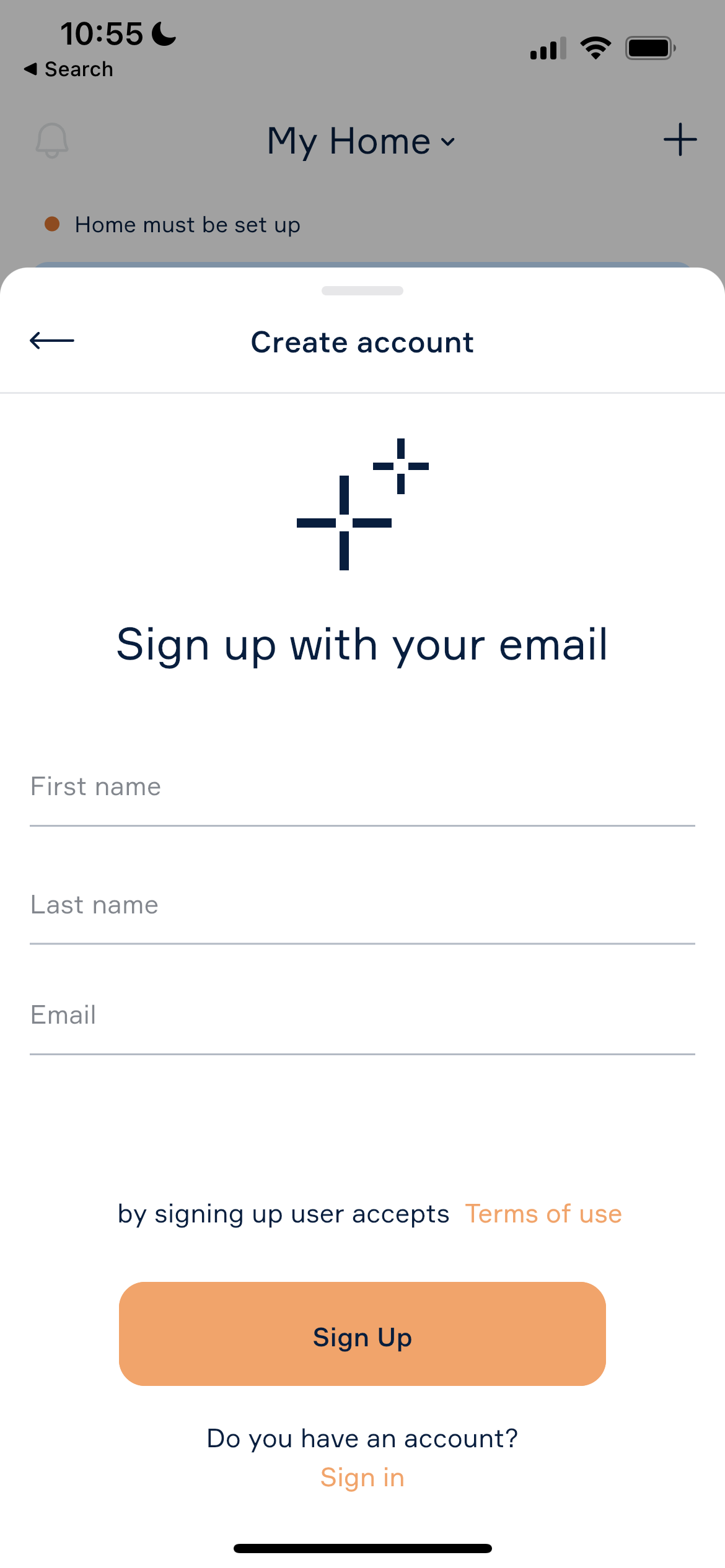 Configure your home
A part of the setup includes adding information about your home (such as address, type of home, size, number of floors, age etc.). This information is used both for administrating your home in the app and to ensure Abralife provides accurate data and information to you (e.g. energy consumption compared to other similar homes).
Not all fields are mandatory to populate. However, we recommend adding as much, accurate data as possible. This will give a better experience for the Abralife users.
PS! You can edit and add information about your home later as well.
For additional details regarding home configuration, check this article.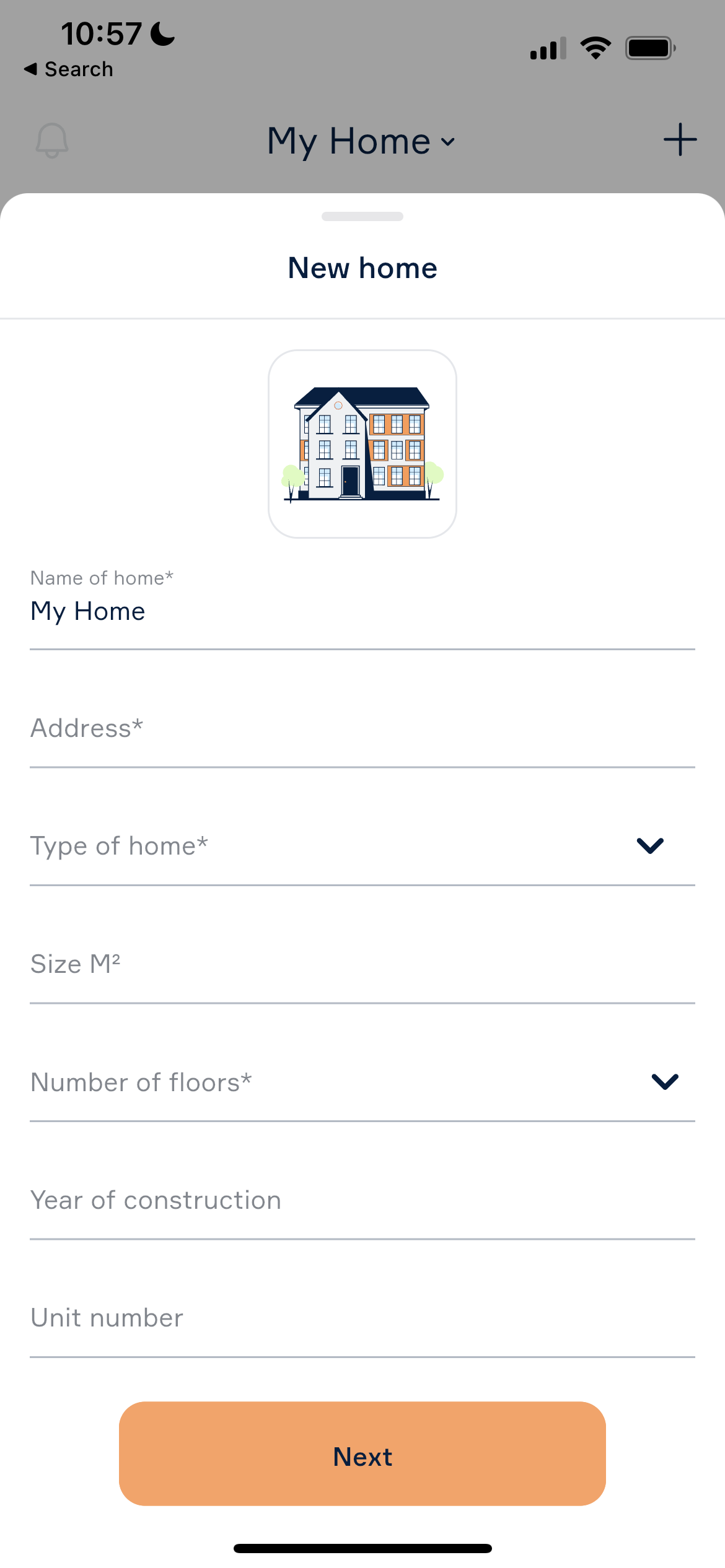 Connect Linkbox+ (the central hub)
Linkbox+ must be connected to the system before you can connect other devices. You can connect the Linkbox+ in different ways:
Connect using bluetooth
If you want to connect the Linkbox+ via bluetooth, make sure it is in reach of your phone (<10 meter). The App will ask for bluetooth permission before search can be initiated.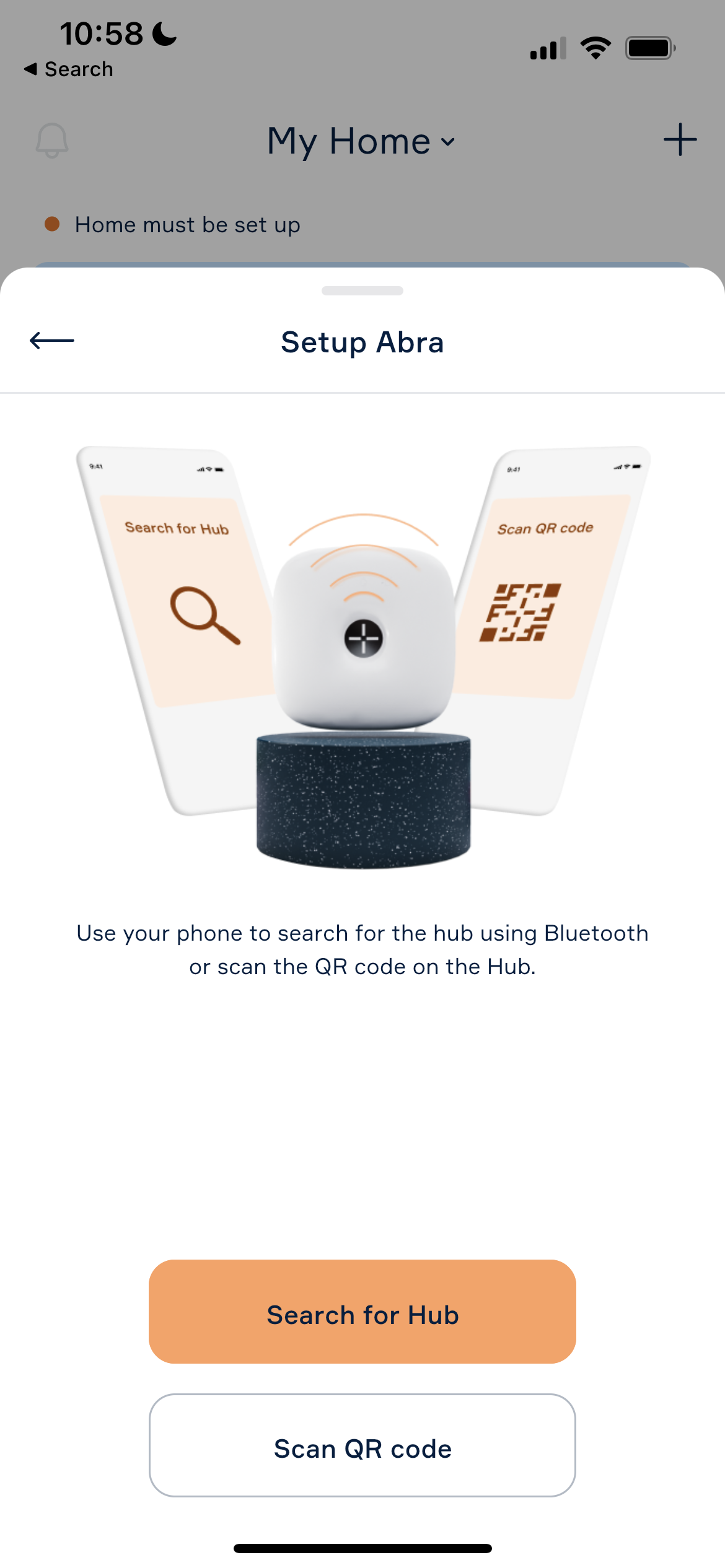 If a Linkbox is found, click to connect. PS! If more than one Linkbox is found, verify the correct unit by checking the serial or by click the speaker symbol (clicking the speaker symbol will trigger a sound from the actual Linkbox).
If no Linkbox+ is found, try connecting using the QR-code (Se next chapter).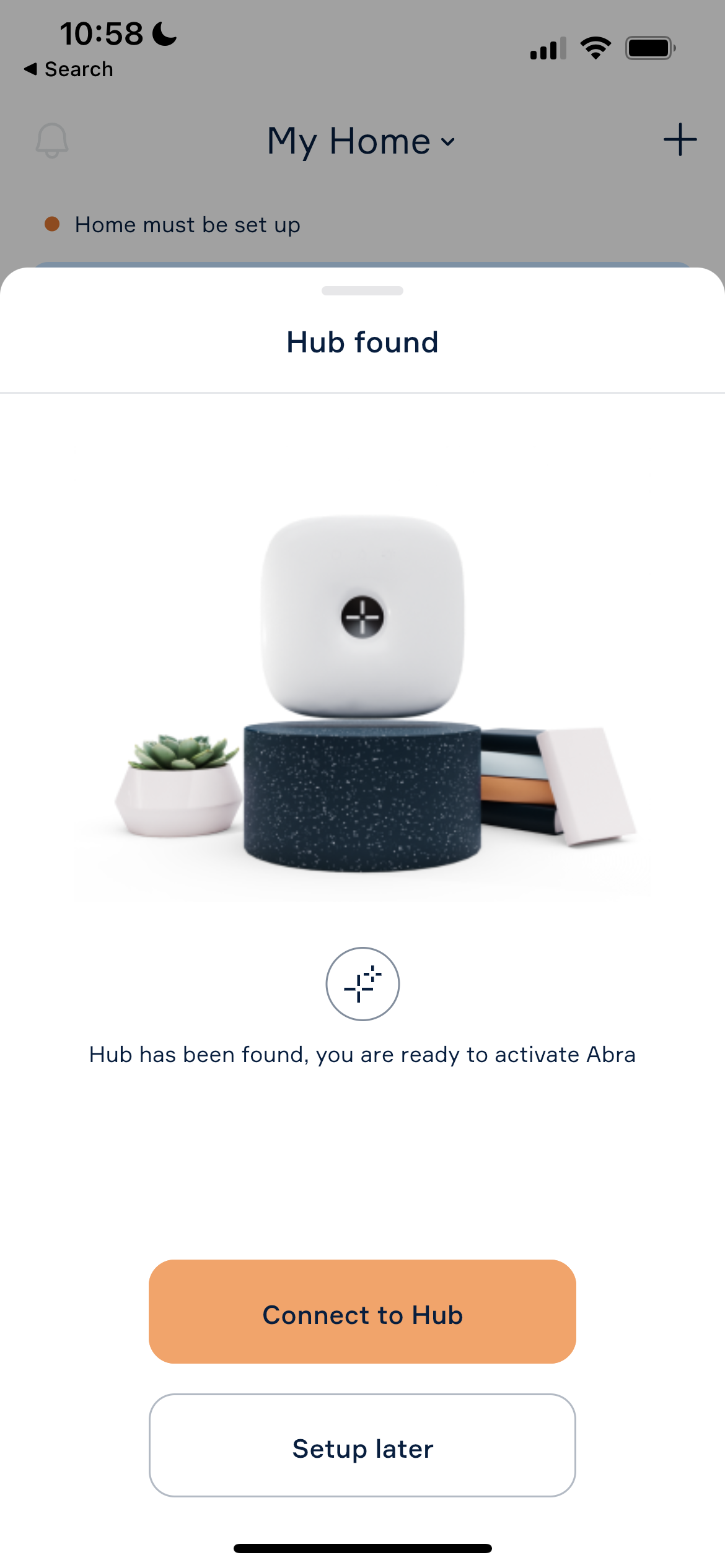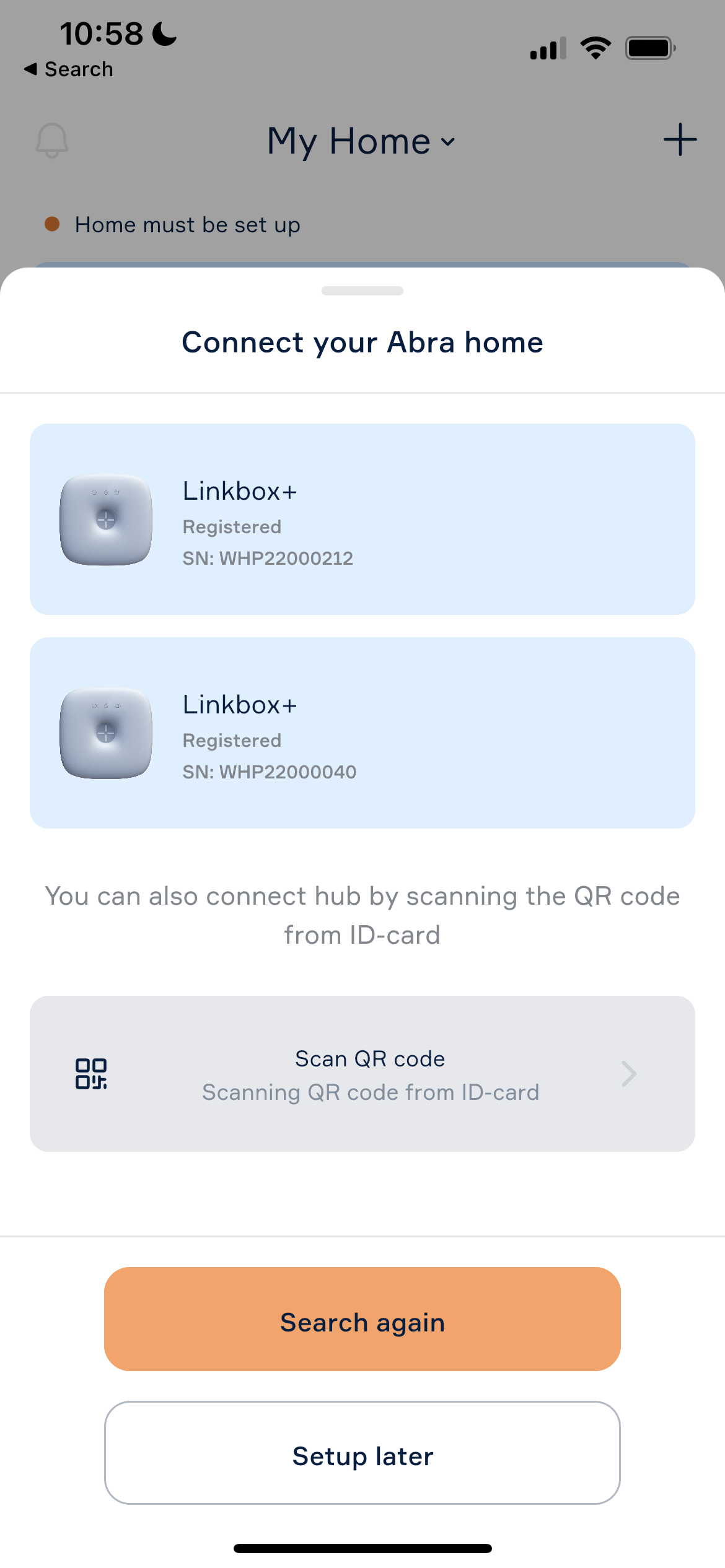 Connecting with QR-kode
Click "Scan QR-kode". If you have a blue Abra ID card,you'll find the QR code on the backside. You willalso find a QR code on the backside of the Linkbox+. Let the app get access to your mobile camera and hold the camera towards the QR code for the phone to read it.
If you are not able to connect the Linkbox+ using one of these methods, take a look at the troubleshooting article.
Registrer Linkbox+ online
Linkbox+ connects to internet via WIFI or Ethernet. We recommend that even Linkboxes with 4G/5G support is connected to your home network if available.
Connecting WIFI
Navigate to Menu->Home->Gateways/Repeaters (Linkbox+)->Internet connection->Wi-Fi. Connect by entering the network name and password.
Connecting Ethernet
Connect a standard cat.6 cable (RJ45) to the "Ethernet" connector on the Linkbox+.
Troubleshooting
Linkbox internet status can be checked in Menu->Home->Gateways/Repeaters (Linkbox+)->Internet connections. If everything is ok, the "Cloud connection" should show as connected and the internet connection should be green. If you have problems getting the Linkbox+ online, check this troubleshooting article.
Connect to Elhub for energy consumption control
Go to the next page for Elhub connection instructions