Abra Energy - How does it work?
In today's world, efficient energy management is essential for both environmental and financial reasons. Abra Energy is designed to help homeowners take control of their energy consumption by providing a comprehensive solution that connects with Elhub and Nord Pool to obtain electricity prices and consumption data for your home.
Abra Energy works seamlessly with the Linkbox+ hub, which integrates with a variety of smart home devices, including thermostats, lighting, and electric vehicle (EV) chargers. Powered by the robust Abra Cloud backend, the system enables homeowners to effectively monitor and manage their energy consumption through the user-friendly Abralife app.
By connecting with Elhub and Nord Pool, Abra Energy provides real-time information on electricity prices, enabling users to make informed decisions on when to consume energy and adjust their usage patterns accordingly. This helps homeowners reduce their energy bills and minimize their environmental impact.
One of the key features of Abra Energy is its intelligent load balancing capabilities. The system can analyze energy consumption data from connected devices and implement load balancing strategies to optimize energy usage throughout the home. This includes controlling the EV charger to ensure that it charges at the most cost-effective times and adjusting the settings of smart devices such as thermostats and lighting to conserve energy.
Abra Energy also provides valuable insights and recommendations to help homeowners further improve their energy efficiency. The Abralife app displays easy-to-understand graphs and charts that show historical energy consumption data, allowing users to track their progress and identify areas for improvement. The app also sends push notifications with energy-saving tips tailored to the user's consumption patterns.
In summary, Abra Energy offers a powerful and versatile solution for managing home energy consumption. By leveraging real-time electricity price data and smart device integration, homeowners can optimize their energy usage, save money on their bills, and contribute to a more sustainable future.
Solution description
Principle sketch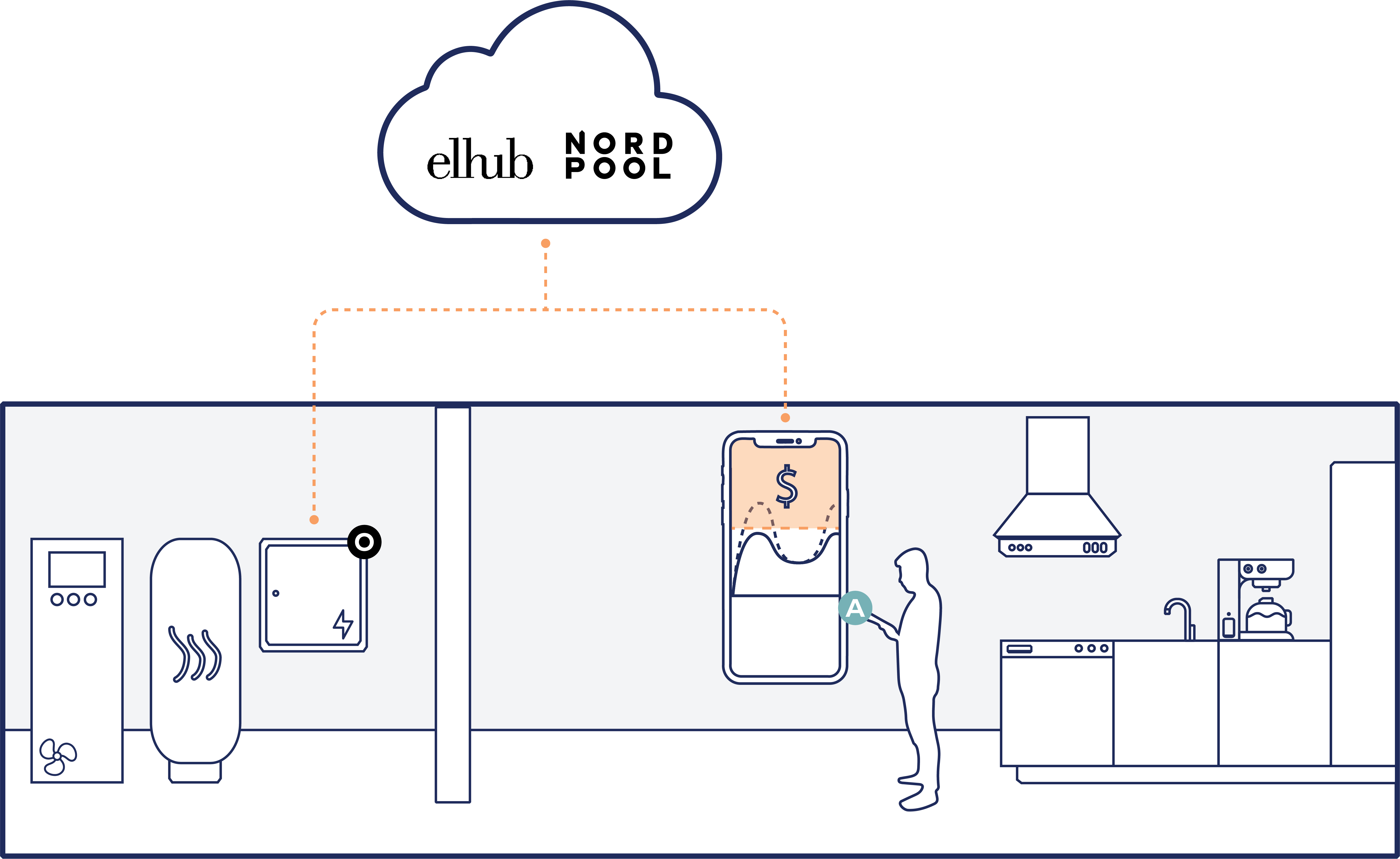 Description
| | | |
| --- | --- | --- |
| Icon | Product | Description |
| | Abralife app | App Abralife is your interface to the Abra universe. Here you can do everything from monitoring power consumption to controlling lights and checking the status of water protection. |
| | Elhub | Elhub is a neutral and central data hub for electricity information in Norway, which collects and distributes all electricity data between market actors, and gives you as a consumer insight into your own electricity consumption and the opportunity to optimize it. |
| | NordPool | Nordpool is Europe's leading power exchange, where both producers and consumers can buy and sell electricity, which gives you as a consumer the opportunity to take advantage of price fluctuations and save money on your electricity consumption. |
Compatible devices
| | | |
| --- | --- | --- |
| Brand | Product | Link |
| Abra | Smart Load Switch | Coming soon |
| Abra | Abra EO Mini Pro | Coming soon |
| Abra | Abra EO Genius | Coming soon |
| ELKO / Schneider Electric | Room Thermostat | Coming soon |