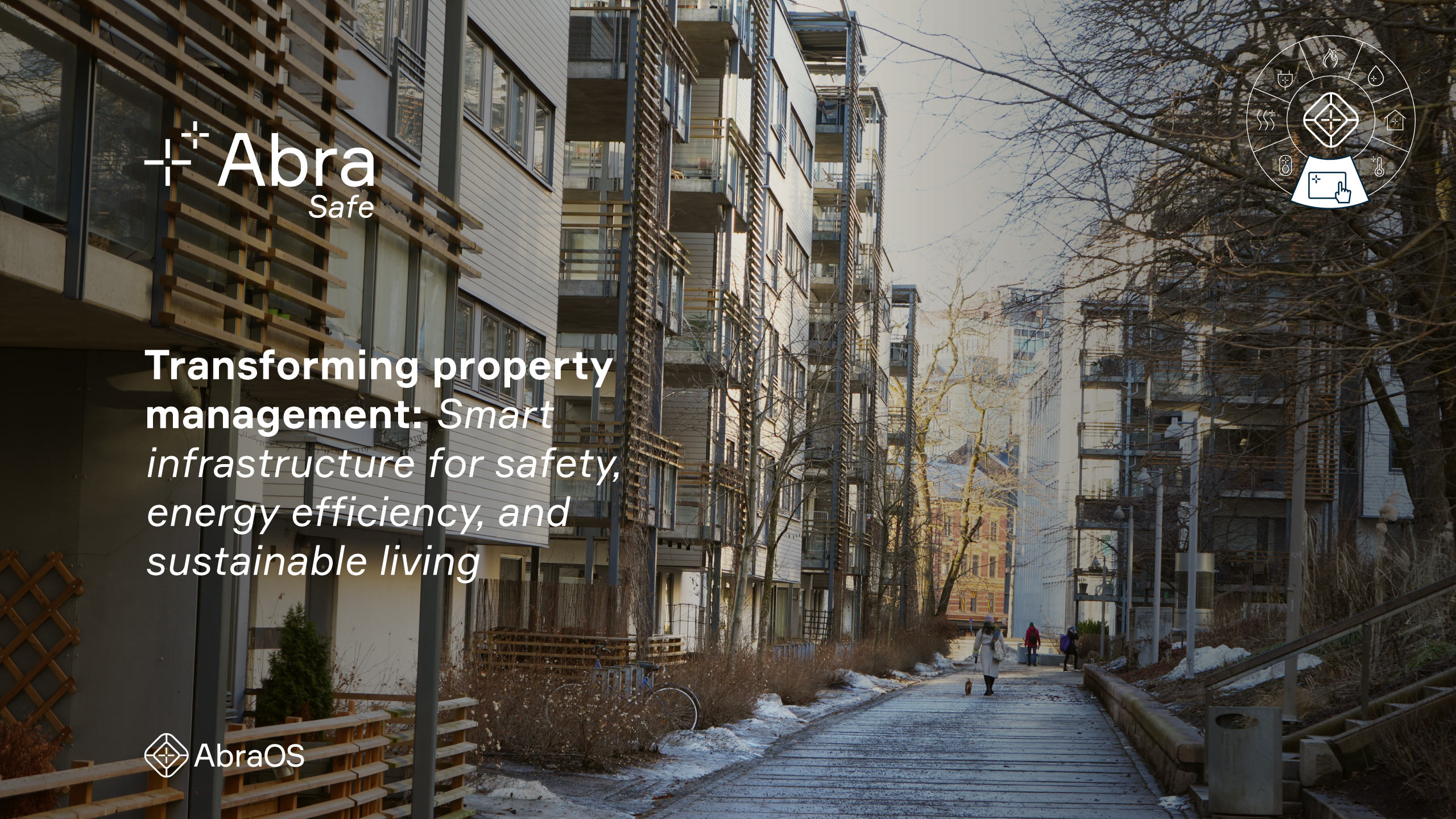 Management and control for multi family homes - How does it work?
In multi-family residential buildings, effective property management is crucial to ensure a comfortable living environment for all residents. The Abra management portal is designed to provide an efficient and comprehensive solution for managing multiple properties in a single, user-friendly interface.
The portal is powered by the Abra Cloud, a robust backend that seamlessly integrates with the Linkbox+ hub in each unit and in common areas. This allows property managers and building administrators to connect and monitor various smart home devices, such as water leak sensors, smoke detectors, access control systems, and more, across multiple units.
Through the Abra management portal, property managers can easily monitor and manage all aspects of the building's safety and security, including water leak protection and fire safety. The portal allows for real-time monitoring of water sensor tapes, enabling prompt detection of potential leaks and the automatic shut-off of water valves in affected units. In addition, the portal provides an overview of the status of smoke detectors, ensuring timely maintenance and replacement when necessary.
The portal also offers advanced access control features, allowing administrators to manage entry permissions for residents, staff, and service providers. Customizable access schedules can be created, and temporary access can be granted or revoked as needed, ensuring a secure living environment for all residents.
Energy efficiency and sustainability are key concerns in multi-family homes, and the Abra management portal provides tools to monitor and optimize energy usage across the entire property. By analyzing data from connected thermostats, lighting, and ventilation systems, property managers can identify areas for improvement and implement energy-saving measures.
The Abra management portal offers a versatile and powerful solution for managing multi-family homes, combining all essential property management features in one convenient platform. By investing in the Abra system, property managers can enhance the safety, security, and comfort of their properties while streamlining their daily management tasks.
Løsningsbeskrivelse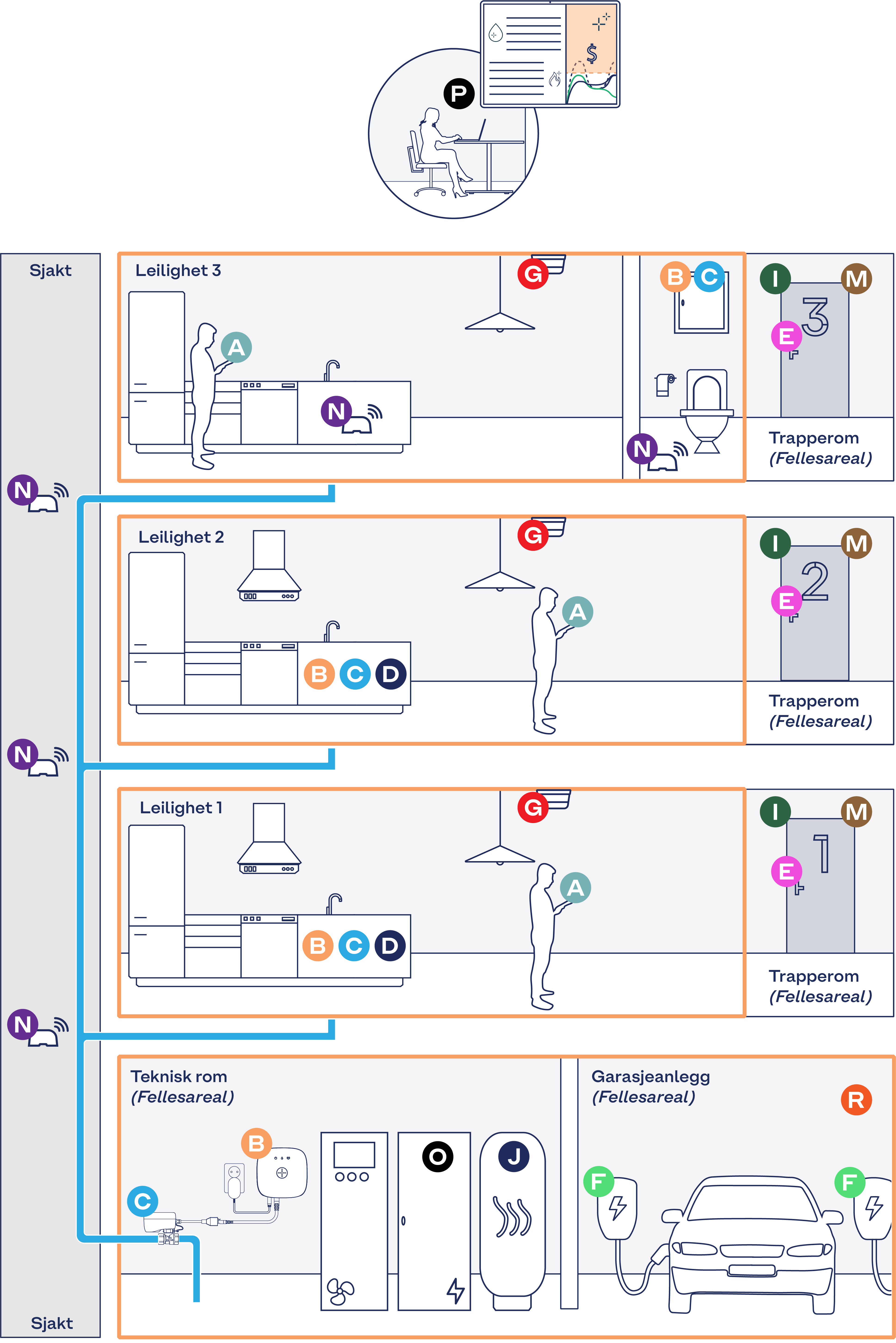 Description
| | | |
| --- | --- | --- |
| Icon | Product | Description |
| | Abralife App | Abralife er ditt grensesnitt mot Abra-universet. Her kan du gjøre alt fra å monitorere strømforbruk til å styre lys og sjekke status på vannsikring. |
| | Linkbox+ (central unit) | Linkbox+ (central unit) is mounted in a suitable location in the kitchen cabinetry or utility room using the included wall bracket and connected to power via the included adapter. The included CAT6 cable is connected between the central unit and valve, and the central unit |
| | Ball valve 1/2" or 3/4" | The valve is installed by a certified plumber on the kitchen's cold water intake. |
| | Sensortape for water | Self-adhesive sensor tape is connected to the central unit and pulled down under the kitchen carcass and along the floor where water is assumed to collect in case of spills or leaks. It is important that the surface is clean so that the sensor tape adheres well to the substrate! |
| | Smart Doorlock | With Smart Doorlock from Abra, you have access to control your door locks from anywhere in the world. |
| | Smartbelysning | Seamlessly integrate your Zigbee-enabled lighting devices with the Abra Linkbox+ hub and take control of your home's ambiance through the user-friendly Abralife app. |
| | Motion sensor | Alerts you of movement in your home. |
| | Room Thermostat | The room thermostat is part of Abra Energy and helps you optimize your energy consumption. |
| | Ventilation | Connect Abra to your ventilation system and manage your home's air quality and comfort through the intuitive Abralife app. |
| | Entry Sensor | Shows the status of a door or window being opened and alerts you if this happens when it shouldn't. |
| | WaterSensor+ Wireless water sensor | WaterSensor+ is a wireless sensor that registers the presence of water, monitors temperature and humidity, and alerts if risk of frost. If water is detected, the sensor will inform the Linkbox+ and the water supply will immediately be shut off. The users will be notified via a light and sound alarm and a Abralife app push notification. |
System image