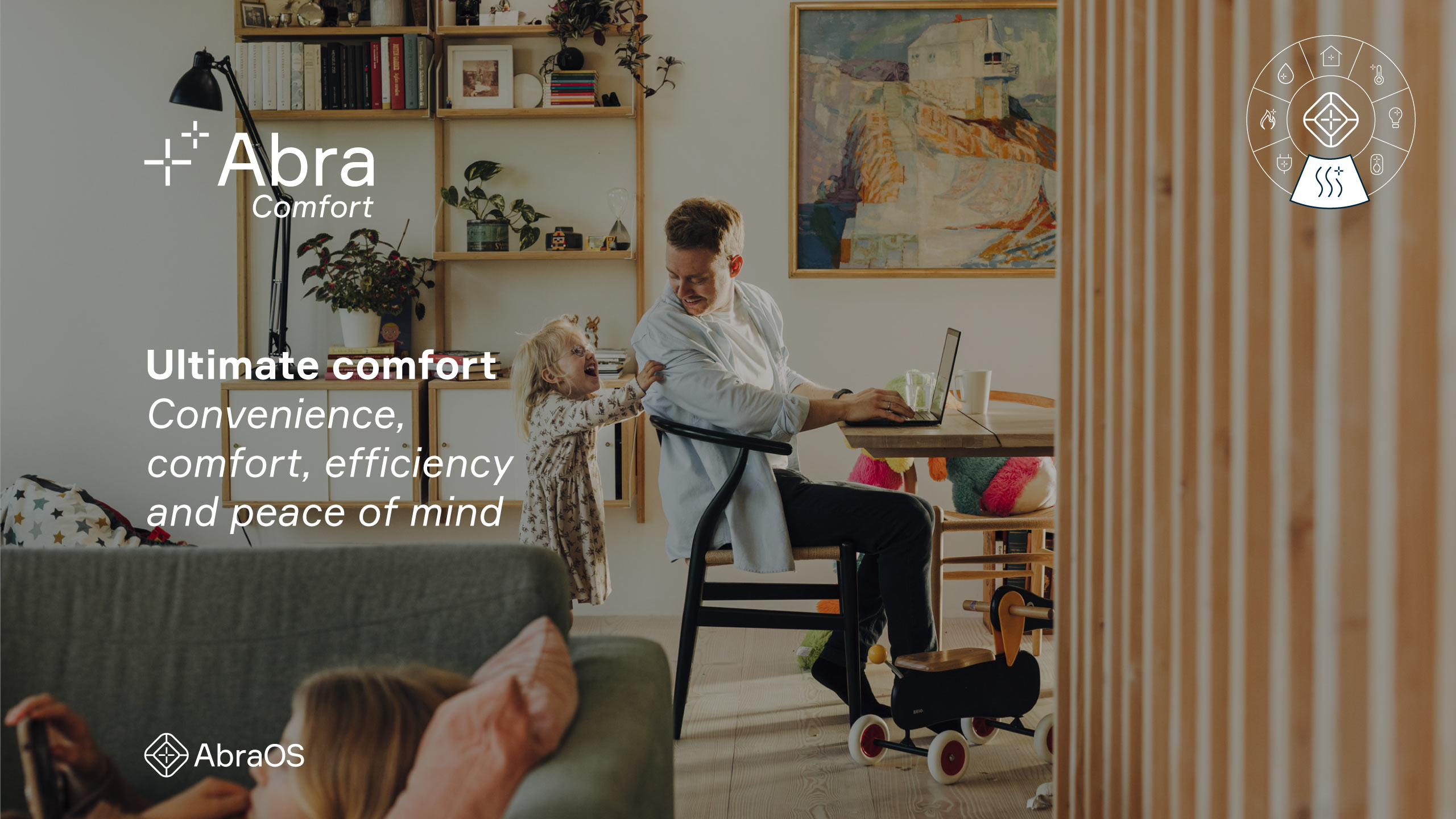 Indoor climate and heating - How does it work?
In today's smart homes, maintaining the perfect indoor climate is a high priority. This not only involves controlling the temperature but also optimizing humidity levels and air quality for a healthy and comfortable living environment. Abra's Indoor Climate and Heating solution offers a holistic and user-friendly way to manage all aspects of your indoor environment.
The Abra system integrates seamlessly with a wide range of smart devices such as thermostats, humidifiers, and ventilation systems. Powered by the robust Abra Cloud backend, these devices work in harmony within the Abra smart home ecosystem, providing real-time monitoring and control over your home's indoor climate and heating.
With Abra, you can effortlessly manage your home's heating, setting schedules based on your daily routines, and adjusting temperature levels to ensure optimal comfort. The integrated smart thermostats not only allow you to control the temperature but also monitor energy usage, helping you optimize efficiency and reduce energy costs.
However, maintaining a comfortable indoor climate goes beyond just temperature control. Humidity and air quality play a significant role in creating a healthy living environment. Abra's solution integrates with smart humidifiers and dehumidifiers, allowing you to adjust and maintain the ideal humidity levels. Similarly, the connected ventilation systems ensure optimal indoor air quality, reducing the risk of respiratory problems and allergies.
The Abra system also supports the integration of air purifiers and air quality sensors, providing you with real-time information about the air quality in your home. This allows you to take necessary measures, such as activating the air purifier or adjusting the ventilation, whenever the air quality drops below a certain level.
All these features are easily accessible and manageable through the Abralife app. The app offers real-time monitoring, giving you a comprehensive overview of your home's indoor climate, and allowing you to make necessary adjustments on the go. You can also set up personalized schedules and routines to automate the control of your heating, humidity, and ventilation systems, ensuring optimal comfort at all times.
Investing in the Abra Indoor Climate and Heating solution means embracing a new standard of comfort and well-being in your home. It's not just about automating your home's heating and ventilation; it's about creating a living environment that adapts to your needs, promotes health, and enhances your quality of life.
Solution description
Principle sketch

Description
| | | |
| --- | --- | --- |
| Icon | Product | Description |
| | Abralife app | App Abralife is your interface to the Abra universe. Here you can do everything from monitoring power consumption to controlling lights and checking the status of water protection. |
| | Linkbox+ (central unit) | Linkbox+ (sentralenhet) montert på egnet sted i kjøkkeninnredningen, teknisk rom eller lignende ved hjelp av medfølgende veggbrakett og tilkobles strøm via medfølgende adapter. |
| | Room Thermostat | The room thermostat is part of Abra Energy and helps you optimize your energy consumption. |
| | Ventilation | Connect Abra to your ventilation system and manage your home's air quality and comfort through the intuitive Abralife app. |
Compatible devices
| | | |
| --- | --- | --- |
| Brand | Product | Link |
| ELKO / Schneider Electric | Room Thermostat | Coming soon |
| Flexit | Ventilation | Coming soon |