Abra Activity monitoring - How does it work?
In modern multi-family homes, security and peace of mind are essential for all residents. Abra's safety solution, which utilizes connected motion sensors and door/window sensors, provides a comprehensive and user-friendly system to enhance the security of the entire building.
The safety solution is seamlessly integrated with the Linkbox+ hub, which connects to a variety of compatible motion sensors and door/window sensors that have been tested and verified to work with Abra for complete smart home functionality. All communication between devices and the powerful Abra Cloud backend is secure, ensuring the highest level of protection for the property.
When the motion sensors detect unexpected movement, or door/window sensors identify unauthorized entry, the Linkbox+ immediately receives a signal, triggering an instant alert. The system notifies residents with sound, light, and push notifications in the Abralife app, allowing them to respond promptly to potential security threats.
Abra's safety solution also enables residents to create customized security settings and schedules through the Abralife app. This way, they can easily activate or deactivate the system according to their preferences and needs. The app also provides real-time monitoring and control, alerting residents to any unusual activity or potential security breaches.
Additionally, the system allows users to control the sensors manually (physically or via the app) if necessary, such as during extended absences from the property or when performing maintenance tasks.
Investing in Abra's safety solution for multi-family homes not only enhances the security of the entire building but also offers the benefits of a comprehensive smart home ecosystem that makes managing and monitoring the property's security simple and efficient.
Solution description
Principle sketch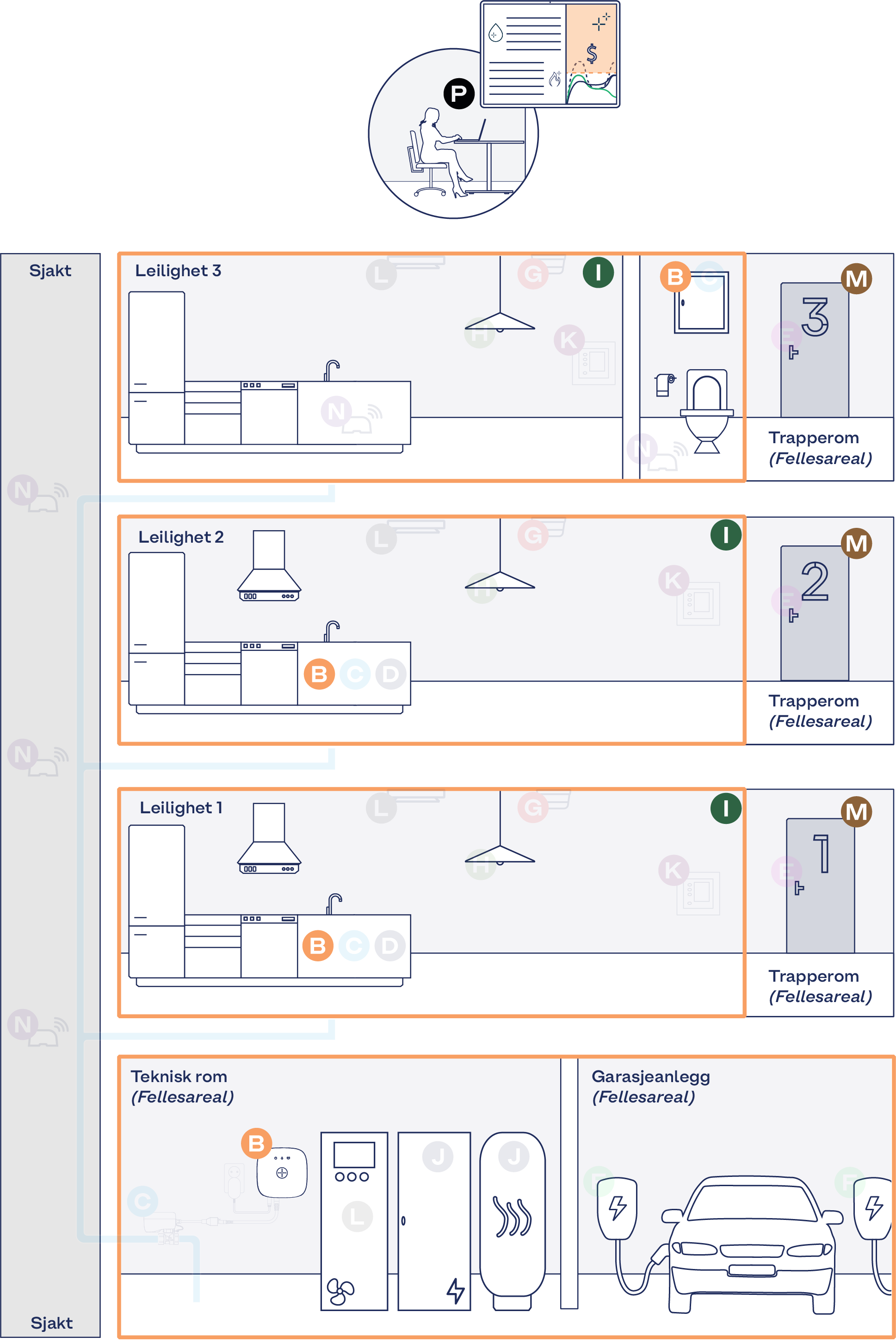 Description
| | | |
| --- | --- | --- |
| Ikon | Product | Description |
| | Abralife Portal | Med Abralife Portal vil styret enkelt kunne oppfylle sikkerhetsansvar med status per leilighet og fellesområder. |
| | Abralife app | With the Abralife app, owners of multiple homes and/or cabins can easily manage all their properties from one central platform. |
| | Linkbox+ (central unit) | Linkbox+ (central unit) mounted in a suitable location in the kitchen cabinetry, utility room, or similar using the included wall bracket and connected to power via the included adapter. |
| | Motion sensor | Alerts you of movement in your home. |
| | Entry Sensor | Shows the status of a door or window being opened and alerts you if this happens when it shouldn't. |
Compatible devices
| | | |
| --- | --- | --- |
| Brand | Product | Link |
| Frient | Motion Sensor Pro | Coming soon |
| Frient | Motion Sensor | Coming soon |
| Frient | Entry Sensor Pro | Coming soon |
| Frient | Entry Sensor | Coming soon |