Abra fire safety - How does it work?
In a modern single family home, safety and security are crucial. The Abra fire and smoke alarm system, utilizing connected smoke alarms, provides a reliable and efficient solution to protect your home and loved ones from the dangers of fire and smoke.
The fire and smoke alarm system is seamlessly integrated with the Linkbox+ hub, which connects to a range of compatible smoke alarms tested and verified to work with Abra for comprehensive smart home functionality. All communication between devices and the powerful Abra Cloud backend is secure, ensuring the highest level of protection for your home.
When smoke or fire is detected, the connected smoke alarms send a signal to the Linkbox+, which then triggers an immediate alert. The system notifies the user with sound, light, and push-notifications in the Abralife app, allowing for quick response to potential emergencies.
One of the key features of the Abra fire and smoke alarm system is its secure connection to an alarm station. In case of an emergency, the alarm station is automatically alerted, and can contact fire rescue services promptly, reducing response time and potentially saving lives and property.
The system also allows the user to manually control the alarms (physically or via the app) if needed, such as during maintenance or testing.
By investing in the Abra fire and smoke alarm system for your single family home, you not only enhance your home's safety but also benefit from a comprehensive smart home ecosystem that makes managing and monitoring fire and smoke alarms simple and effective.
Solution description
Principle sketch of fire alarm system in living unit

Principle sketch of fire alarm system with connection to emergency central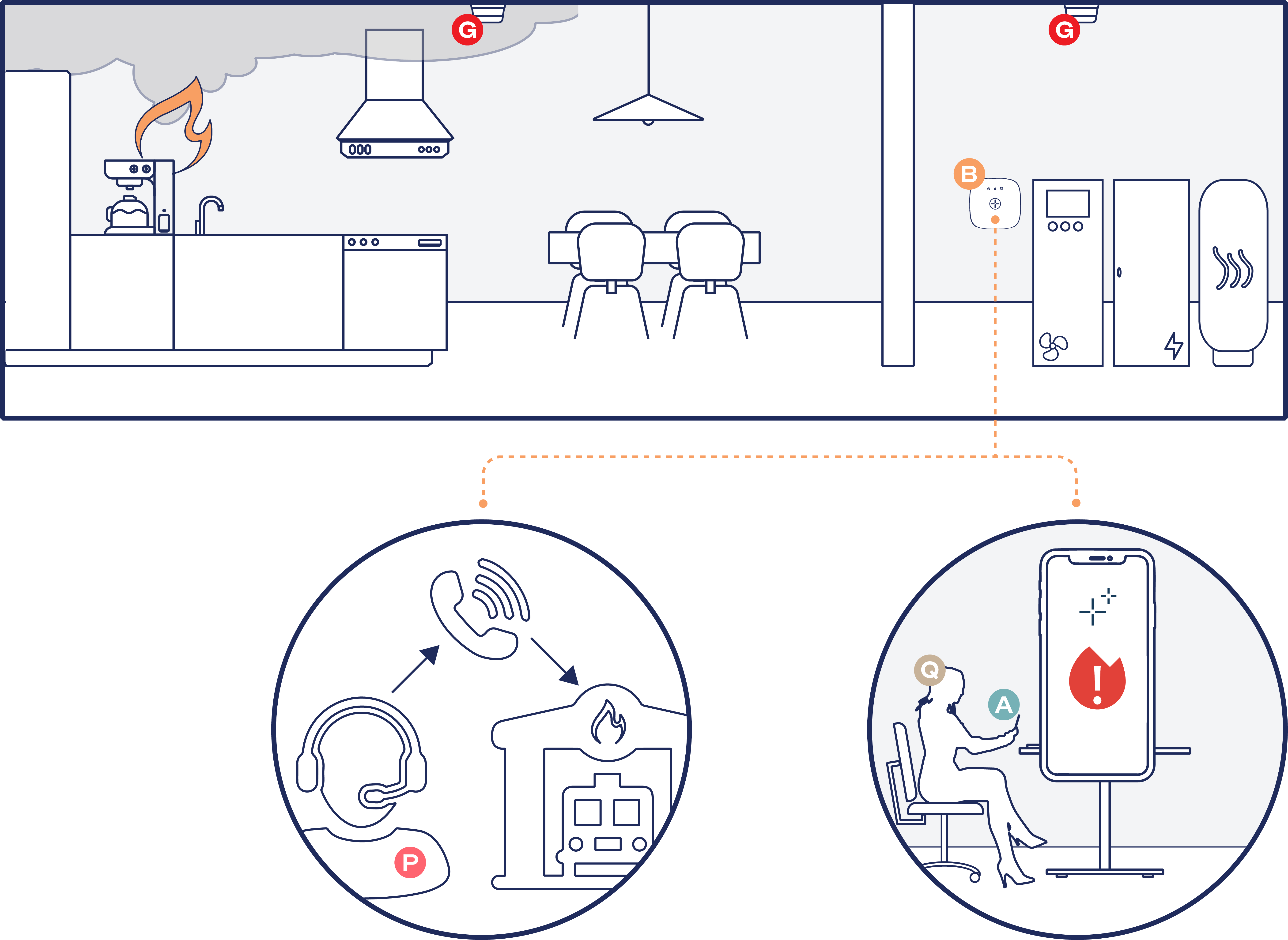 Description
Icon

Product
Description

Abralife app

With the Abralife app, owners of multiple homes and/or cabins can easily manage all their properties from one central platform.

Linkbox+ (central unit)

Linkbox+ (central unit) mounted in a suitable location in the kitchen cabinetry, utility room, or similar using the included wall bracket and connected to power via the included adapter.

Smart Smoke Alarm

Smart Smoke Detector is installed according to the user guide in the rooms you want to secure. For single-family homes and townhouses, this provides extra security beyond ordinary smoke detectors. Smoke detectors are mesh-connected so that they alert each other when smoke/fire is detected.

Emergency contacts

For good fire safety, it's important to have emergency contacts who can respond quickly. Your emergency contacts are the people we will contact immediately if the fire alarm goes off in your home.

Your emergency contacts can be family members, friends, or neighbors who live nearby and can reach your residence quickly if necessary. They will be notified about the situation and can assist in confirming the fire and coordinating the response until the fire department arrives.

It's important that your emergency contacts are aware of their responsibilities and are willing to act in an emergency. We recommend that you have a conversation with them about what they should do if they are contacted by us.

Alarm station in case of fire

Our FG-approved alarm station is always on duty. In the event of a confirmed fire, the alarm station will be alerted immediately.

This ensures a quick and efficient response to protect your home.
Compatible devices
| | | |
| --- | --- | --- |
| Brand | Product | Link |
| ELKO | ELKO Smart Smoke Detector | Coming soon |
| Frient (Develco) | Intelligent Smoke Alarm | Coming soon |